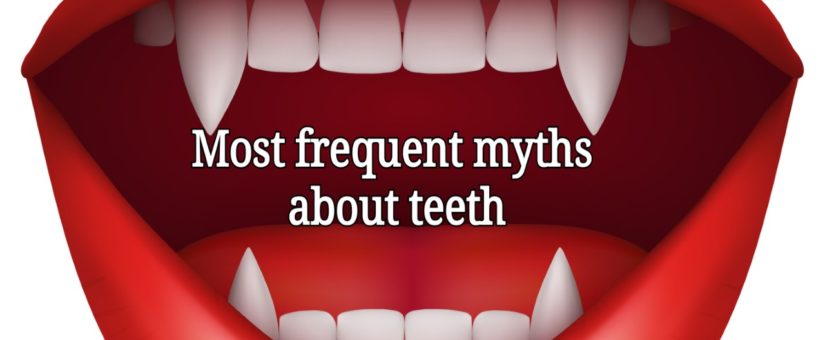 Most frequent myths about teeth
On March 12, 2019
dental, mouth health, Questions at the dentist, teeth
Article written by Dr. Luis Miguel Sánchez Suárez
Although we are living the Information Age, there are still lots of myths about the mouth, teeth and dentistry which remain deeply rooted in today's society. In this article, I will provide and clarify some of the most common ones:
It is not necessary to fix your milk teeth as you will lose them. FALSE
Milk teeth are as important as permanent teeth – or even more! Deciduous teeth are essential, not only for chewing, but also in the development of the mouth; in fact, they provide guides for the eruption pathway of the permanent teeth. Thus, keeping a good oral health as a child would have a positive effect on your future buccal health. On the other hand, if you do not take care of your oral health, this would lead to future problems with your permanent teeth.
Oral hygiene causes tooth wear. FALSE
Dental hygiene is a procedure designed to remove tartar or plaque from teeth, which can cause major health issues, such as periodontitis or pyorrhoea. The instruments used for this procedure are completely safe in the competent hands of dental professionals. So, there is no excuse for having your teeth professionally cleaned once a year.
You can lose some teeth during pregnancy. FALSE
This is the most widespread and deeply rooted myth. Many mothers lose teeth during pregnancy, but that is not its main cause. Pregnant women experience hormonal changes that make them more susceptible to gum irritation, caused by bacteria and tartar. However, this condition can be perfectly controlled by means of a good oral hygiene and keeping these problems under control:
Vomiting: it is advisable to rinse your mouth right after vomiting.
Higher intake of food: as pregnant women tend to eat more regularly than non-pregnant women, they should brush their teeth after every meal.
Lack of prevention: if you leave your oral health unattended (tooth decay, gingivitis, among others) before getting pregnant, all these problems may get worse during pregnancy. Thus, if you are pregnant or planning to get pregnant, you should visit your dentist.
In case of infection, molars cannot be removed. FALSE, but with nuances
Oral infections are commonly caused by an infected tooth and, in most cases, if it is removed, symptoms disappear. The biggest problem we face when treating cases of active, acute infections is that it is very painful for patients and it makes them feel uneasy for reasons inherent to their condition. Concerning the effectiveness of anaesthetic, it is difficult to ease the pain completely; that is the reason why most dentists advise to take antibiotics first, to reduce symptoms. and then, they remove the tooth/molar. However, there are many cases in which it is possible to remove the molar in order to minimize patient discomfort and pain.
When milk teeth are coming in, it causes fever. FALSE
There is no evidence to prove that the children have fever during the eruption of the deciduous teeth. As a parent, it is important for you to keep in mind that a rise in body temperature means a viral or bacterial infection, which has nothing to do with teeth eruption in 99% of cases.
In case of doubts, do not hesitate to ask your dentist.